The heart of the Thoroughbred beats steady inside of jockey Deshawn Parker.
Recalling endless days at racetracks like Thistledown and Belterra Park Gaming & Entertainment Center With his father, Daryl, who worked at various positions, it was an upbringing of excitement for Parker—one that ultimately solidified his own career.
"When I was a kid he was a clerk of scales, so I got to hang out in the jocks' room a lot and see how it was, and I really fell in love with it," Parker said of his father, who also had stints as an exercise rider and jockey agent.
"Every summer, whatever race track he was at, I went and hung out with him and got to be on the track. Even when he was a steward, I was up in the stewards' stands when I was younger. I got to see a lot of different parts of the business."
Standing 5'11", Parker beat the odds physically when he decided to become a jockey, and he never imagined his career would span 34 years.
Sign up for BloodHorse Daily
"I only planned on riding like two or three races because I was tall and I was light enough that I could do the weight at the same (time)," Parker said. "I was like, 'I'll just get it out of my system.' I actually wanted to be a baseball player, but I never really got big.
"Once I started riding, it was one of those thrills that you can't get out of your head and you want to just keep doing it, especially if you can do it."
Deshawn Parker at Horseshoe Indianapolis
With encouragement from his father, and a self-sustained drive to ride, Parker, 51, started his career in 1988 at Thistledown and then moved to Mountaineer Casino Racetrack & Resort in West Virginia.
Overcoming his own doubt was challenging, but Parker also received backlash from those in the industry who felt his size made him less capable of sustaining a race-riding career.
"I struggled for a while with trainers because you're so tall and when they're coming up to you (they say), 'You're too tall to be a jockey.' I think that fueled me more to want to be one," Parker said. "The more they kept telling me I couldn't do it, the more I wanted to prove them wrong. That was the main thing.
"It took me a while to get going. It wasn't like I just started out winning races and stuff like that. I rode maybe 60 or 70 before I broke my maiden. After the first one, the second one came real quick after that."
Brushing off criticism, Parker got to work.
Although he is not one to rest on his laurels, the Ohio native can now look back on honors that include becoming Mountaineer's all-time leading rider, the 2021 George Woolf Memorial Award winner, and the winningest African- American jockey in history with almost 6,000 victories, a milestone he is quickly approaching.
Deshawn Parker aboard Winning Romance pulls away to wins the Shantel Lanerie Memorial Stakes at Fair Grounds
Trainer Jeff Greenhill recalled meeting Parker at Mountaineer and putting him up on his horses.
"I met him when he was the king of Mountaineer Park. He was the leading rider there when Billy Johnson had his book for years and years," Greenhill said. "While I'm not an overly tall fella, I'm usually taller than most jockeys. But Deshawn's probably got an inch or so on me. I was like, 'Wow, how is this guy a jockey?" But he can fold up on a horse with the best of them.
"I don't know how he does it. He's dedicated enough to stay thin and he can sure get down on a horse. When I first saw him I thought he was taller than the average jock, but it didn't stop him from winning a whole bunch of races for me."
Parker's journey to success has not only been difficult because of his size.
Though African Americans were a usual presence on tracks in the past, those numbers have dwindled in recent years. Parker believes the shift is due to a lack of access, which he says includes people of all races.
"Here in the States, we're kind of shying our kids away from the backside. A lot of tracks don't even let kids on the backside, so it's harder for a kid growing up to want to be on the backside or even on a racetrack because they haven't grown up into it," Parker said. "For me, I was on the backside since I was a little kid, so it's always what I wanted to do.
"Now I feel like white riders are the minority in horse racing because it's all Hispanic (jockeys). You're getting more and more black riders out there now, but it's more Hispanic riders that are dominating… I think it's because they go to schools in their countries and they're pretty much born wanting to do it… I think that's the reason we're losing a lot of American people in the industry right now."
Though he may not ride with many African-American jocks on a day-to-day basis, Parker's influence has been a mainstay for others in the game to look up to.
"I get Kendrick (Carmouche) and all those guys calling me, CJ McMahon, (guys) like that. They're all good guys and great riders," Parker said. "They're going to be stars in the game; it's just a little harder for us to get going.
"Right now the Ortiz brothers (native Puerto Ricans) are dominating. I love Kendrick, he's staying out there in New York and fighting with them and still holding his own. That's a good thing for him and a good thing for African-American jockeys ."
Parker said that as much as the younger riders rely on him for support, he often calls in the favor.
"I call them, too, when I need help and need to vent…You're always learning in this game," he said. "You're never perfecting anything. You always want to talk to people about 'Do you think I did this wrong, did I do that wrong?' Even though we race against each other, we're still trying to help each other out."
Parker's father, who passed away in March of 2021 after a battle with cancer, still rides with him in spirit.
"I took everything in that he said to me," the jockey said. "He always called me 'Shawn boy.' Now wanting to hear it makes me cry a lot of times. I think about him every day. Times that I'm driving down the street and I see something that reminds me of him, I start busting out crying.
"He was one of those guys that helped everybody out on the racetrack. That is the one thing you can ask anybody out there, he was a great steward to where he wasn't trying to penalize you for anything, he was trying to help and support you. He also did that with me."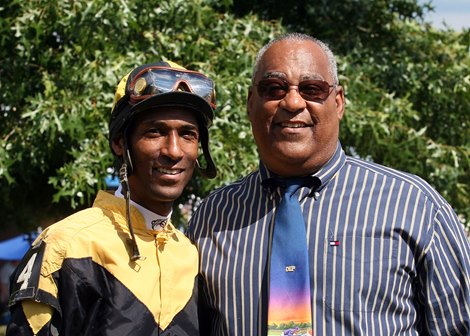 DeShawn and Daryl Parker
The late steward is the recipient of the 2021 Pete Pederson award, given by the Racing Officials Accreditation Program for individuals who demonstrate professionalism, integrity, and compassion. Parker will accept the award in his father's honor June 25 at Thistledown.
Greenhill, who knew Parker's father, spoke emotionally about the beloved steward.
"His dad was a pleasure to deal with as a racing official," he said. "I hate to see him leave us so soon… As a matter of fact, they had a race at Belterra honoring his dad and I got to meet some of his other relatives and tell them how much I thought about Mr. Parker, and then I won the next race.
"If they hadn't left already, I would've herded them back to the winner's circle to take a picture with them. It's called the Daryl Parker Memorial."
Parker sits at 5,997 wins, with numbers 5,995 and 5,996 coming from Greenhill's barn.
"It was funny because a lot of people would ask me how many races I'd won and I never knew the amount because I never really wanted to," Parker said. "You put so much pressure on yourself after that. Now I'm getting close and everybody is telling me (about approaching 6,000). I know for sure now."
As Parker nears a milestone not many can say they have achieved, he looks ahead to his next venture which will seemingly mirror the one his father chose.
"I'm going to keep riding until I don't enjoy it anymore. After that, I want to be a steward and follow in my dad's footsteps," he said. "I learned a lot from him in that way, so I want to go out and do things for people and help people out. I did like when I was in the stewards' stands, watching (the horses) work, it was pretty fun . I know there's a lot of work involved with it, but I did enjoy it.
.